7 Essential Steps to Web Site Promotion
Copyright 2005 Herman Drost

Web Site promotion should be the major part of your web site
marketing plan. It's not enough just to design a beautiful web
site and put in on the Net. Promoting your web site has to be
done constantly if you want to get a continuous stream of
traffic to it. If you don't drive traffic to your web site, your
online business venture will soon fail.

1. Create a web site marketing plan - if you fail to plan then
you default to a plan for failure. When designing your web site,
create a plan on how to market it as well. Try to put yourself
in your customers shoes when doing this. It's too easy to just
view your web site from your own perspective. You need to have a
clear vision for your business, goals (short and long term) you
wish to achieve and the strategies of how you will accomplish
them.

Read this article "The 7 steps to creating a marketing plan"

2. Define your target market - many online marketers promote
their web site aimlessly in a field which is too large i.e. they
may use bulk mailing as one of their promotion strategies. Of
course you may get some visitors but the chances are you will
not make many sales. Why? You have not narrowed your field of
customers and targeted them. If you sold Cadillacs online for
instance, you are not randomly going to market to every person
on the Net. Your target market may be previous owners of
cadillacs, or people who routinely purchase luxury American
cars.

Getting targeted customers to your web site, will increase sales,
because they will have more interest in your product or service
than marketing to a general audience.

Read this article:
"How to target your customers and put them in a buying mood".

3. Use several promotion strategies - don't just stick to one
form of promotion because you never know which one will work the
best for you. If you use many channels i.e. search engines,
email marketing, forums, writing articles etc you have a greater
chance of getting more traffic to your web site.

4. Promote continuously - if you want to drive constant traffic
to your web site, you must promote it continuously. Web traffic
is the lifeblood of your online business. For example, you could
constantly optimize your web pages for the search engines,
resubmit them if needed, visit discussion forums every day and
write an article for online publications every two weeks.

5. Calculate your return on investment (ROI) - this means
keeping track of how much money you invested in your marketing
plan and what profit you received in return. This will avoid
wasting large sums of money thrown aimlessly into advertising.

If you calculate it takes 100 visitors to your web site to
generate one sale and with each sale you make $10, then you
shouldn't spend more than 10 cents to get each targeted visitor
and still make a profit.

In order to know which aspects of your marketing campaign bring
the most visitors, you must be able to monitor visitor activity
to your web pages.
Subscribe FREE to
Marketing Tips Newsletter
---
NEW Ebook
101 Highly Effective Strategies to Promote Your Web Site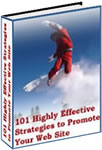 ---
---