How to Write Sales Copy Effectively for the Web
© Herman Drost

When surfing the web, you often find websites with large or flashing graphics to grab your attention. While this may "wow" you initially, it does not pull the visitor through the site to get the order and make a sale. This should be the ultimate purpose of your site if you are trying to sell something.

On the other hand, writing effective sales copy will generate a much more favorable response, whether it is long copy or short copy.

16 steps on how to effectively write sales copy:

1. Research keywords - use wordtracker or the overture suggestion tool to find keywords related to your product. Weave them throughout your web site sales copy, including your meta tags. Try to find alternative keywords to your main ones. I chose the keyword phrase "teeth whitening" as an example.

Here are some of the alternatives to "teeth whitening" to give you some idea:

teeth whitening
laser teeth whitening
zoom teeth whitening
los angeles teeth whitening
teeth whitening gel
whitening teeth
teeth whitening california
teeth whitening kits
new york teeth whitening
california teeth whitening
teeth whitening products

2. Create a slogan - capture your visitors' attention by creating a slogan that stresses the benefits (not the features) of your product. For example for the phrase "teeth whitening" use a slogan such as:

"Get heads to turn when you open your mouth to smile?"

3. Write a powerful headline - the headline should appeal to the benefits of the product not the features. Try to put yourself in the customers' shoes so you are seeing the product from their viewpoint view (not yours). ie

"New Teeth Whitening Gel Becomes Household Necessity for Kids"

4. Appeal to visitors' emotions - writing sales copy for the web is more difficult because you are not physically interacting with the person. Therefore you need to convey some emotion in the words that you use so they will continue reading. In the above headline example, I have emphasized that this
product is a necessity for kids...that you can't do without it. You will feel some loss if you don't buy it now.

5. Make it personal - write as if you are sitting next to the person trying to persuade him to buy the product. Use words such as "you". ( ie "people will notice you when you smile") or "your" instead of "we" or "our" which sounds very impersonal.

6. Don't use capital letters - using capital letters in your sales copy is like yelling at them to buy.
Instead, use different colored text or bold text to emphasize the points you are trying to make.

7. Write an introductory paragraph - this should support your headline and outline the clear purpose of your site and include your keywords. Often a personal story helps to personalize the product.

"Bob's teeth whitening gel makes you want to smile continuously because you immediately stand out from the crowd with your fresh, clean, white smile. You can take this teeth whitening kit with you anywhere you go, whether it's to the office, beach, or restaurant..."

Here I have included the keyword phrases:
teeth whitening
teeth whitening gel
teeth whitening kit

I have also stressed the benefits of the product (what's in it for me) and given a clear purpose of what the site is all about.

8. Create sub headlines - these should continue to support the introductory paragraph. Use bullet points and plenty of white space so your visitor can read your sales copy with ease.

9. Use testimonies - obtain testimonies from satisfied customers and include them throughout your web copy. These are powerful motivators because it is someone else (not you) testifying to the use of your product ie

"I am so relieved that I don't have to chase my kids into the bathroom anymore to brush their teeth. My kids now run to the bathroom to use the teeth whitening gel and are smiling much more than before. They now have a more positive attitude and have made many more friends."
Sandra Smith
ssmith@msn.com

10. Include graphics - graphics should only be used to support the content of your web copy. In this example, you could include before and after photos. The first photo could show someone alone smiling and showing their yellow teeth. The second photo could show a smile with shiny white teeth standing together with their friends (to emphasize why this person became popular).

11. Get the order - include several ways for your visitor to take action and order your product. Include order buttons throughout the sales copy (sometimes visitors have read enough and want to order immediately without wanting to read through the whole page). Use several payment methods (ie credit
card or paypal) to capture the largest number of paying customers.

12. Include bonuses - most people love to receive something extra on top of what they are getting already. This increases the perceived value of your product. Add a few bonuses to the end of your sales copy. This may consist of e-books, offering extra help after the sale, or having access to special
information only available to those that purchase your product. Create a password protected directory on your site where only people that have purchased your product, have access to this special information.

13. Create a sense of urgency - it's very easy for visitors to procrastinate, thinking they will come back later...they rarely do, especially on the Net. Most will purchase on impulse. You could write something like:

"Get your order now as supplies are very limited" or

"These bonuses are available for only a limited time"

Be truthful in what you say. You don't want a visitor to return to your site and still see the same number of products listed from when they last visited your site. There may be a script you can use on your website that automatically shows the decreasing number of products or time available to receive the bonuses.

14. Provide a solid guarantee - guarantees help reduce the anxiety the customer may have ordering from you. ie "30 Day Money Back Guarantee". The longer your guarantee, the fewer returns you will receive. You will receive fewer returns for a one-year guarantee than you will for a 30-day guarantee. This is because they won't feel rushed to return to review your product in order to return it.

15. Provide contact information - this allows visitors to ask questions which you may not have clearly addressed in your sales copy. You may also want to include a personal photo of yourself or an "about us" page. This shows customers you are not trying to hide yourself behind your site but want to win
their trust.

16. Check spelling, grammar and formatting - run your sales copy through a spell checker like MS Word. Typos in your sales copy project an air of unprofessionalism, sending your visitors away. Keep your sentences short and to the point. Most Internet users will scan your sales copy for headlines,
sub headlines, bulleted, bold, or colored text. Proofread your sales copy several times or have someone else read through it.

By following the formula outlined above, you can now create sales copy that enables visitors to stick to your site and purchase your products instead of trying to "wow" them with flashy graphics that may take forever to download.

Resources
Make Your Words Sell!

Subscribe FREE to
Marketing Tips Newsletter
---
NEW Ebook
101 Highly Effective Strategies to Promote Your Web Site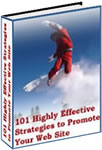 ---
---