Major Search Engine Directory Submissions
How to Get Your Web Site Listed
© Herman Drost

Submitting your web site to the search engine directories
will give you a great boost in traffic. A listing in a large search
engine directory like ODP (Open Directory Project) enables your
web site to get indexed for free by the major search engines such as
AskJeeves, AOLSearch, Google, and Lycos. Directories will also
help increase your page ranking. However getting listed in the
search directories is more difficult than the major search
engines. Preparation and patience is needed.

In Part 1 we covered

How to Get Your Web Site Listed in the Major Search Engines

So what's the difference between the major search engines and major
search engine directories?

Search engines are often confused as being the same as search
directories.

A search engine is a web-based software tool that enables the
user to locate sites and pages on the web based on the
information they contain.

Search engine directories use people, so you are dependant on these
editors to put in a description of your website that will cover
the keyword phrases that you need. Therefore, before submitting your
site to a directory think carefully about the description that
you enter.

How to prepare your web site for search engine directory submissions.

1. Research the best keywords - use the overture suggestion tool
or wordtracker tool to find the keywords best suited for your
site. It's no point entering words in a directory that don't relate to your
site or are not often searched for. Include these keywords in
your page content and in each of your meta tags.

2. Evaluate your site - search directories are more particular
about allowing web sites to get listed than search engines.
Therefore make sure your site has no broken links, includes relevant
content-based pages, loads quickly (within 10 seconds), is easy
to navigate, and has cross browser compatibility.

3. Prepare your title - if you are a business enter your business
name ie iSiteBuild. If you don't have a business name use the
name of your site. Don't use a long title. This may help you get
listed in the search engines but not in the directories.

4. Write a description - remember that human beings are looking
at your description so don't create an ad. Create a well written
description of about 25 words, that clearly explains what your
site has to offer.

5. Look professional - your web site should have a professional
appearance. Don't just put up a bunch of affiliate links to other
sites or just have a one page sales letter.

6. Submit your site - navigate through the directory to find the
best category for your web site. Don't just include what you think
is the most popular but the most targeted category.
An easy way to find out is to enter your search terms in the directory.

7. Be patient - it can take months or sometimes even years to get listed.
This is because there are thousands of sites being submitted
every day. If your site has not been listed after 3 months, then resubmit.

8. Guarantee - there is no guarantee to get listed as the
categories as they may already be filled. There may also be a
backlog of sites to be reviewed. Therefore concentrate your efforts on
other marketing methods.

In Part 3 of this article we'll discuss the detailed requirements for
submitting your web site to each Major Search Engine Directory
in order to attract the thousands of targeted visitors.
Subscribe FREE to
Marketing Tips Newsletter
---
NEW Ebook
101 Highly Effective Strategies to Promote Your Web Site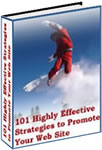 ---
---