Search Engine Directory Submissions - Getting Listed in
Yahoo, Looksmart, ODP, JoeAnt and GoGuides
© Herman Drost
The rules for search engine directory submissions are very different
than the rules for getting listed in the search engines. Therefore please
read the general submission guidelines in my previous article (Part 2),
before proceeding with the more detailed explanations below for each
search engine directory.

http://www.isitebuild.com/search-engine-directories.htm

Yahoo Submissions
Yahoo uses Google (for now) in its Web Search results, but not
in its directory. (Although Yahoo! has announced that it plans to
drop Google from its results--until that happens, though, getting
indexed by Google will show your site in the Yahoo search engine
as well). This will change as Yahoo acquires Inktomi in the coming
months.

Yahoo directory results are compiled by human editors. A listing in
the Yahoo Directory will get you listed in Google, but not vice versa.

Free (standard)
This applies if you have a non-commercial site in which you submit to
a non-commercial category. You can also just submit the non-commercial
pages of your commercial web site. There's a good chance they will be
accepted.

How to submit - Go to the "Suggest a Site" link at the bottom of
the category page, then fill out the submission form. That's
it!

Guarantee - no review time is guaranteed. If you want to expedite
getting listed for your commercial site, then consider using the
paid submission service.

Paid
(

Yahoo Express)
http://add.yahoo.com/fast/add?+Business
For a one time fee of $299.00, Yahoo will guarantee consideration
of your site within 7 working days. It does not guarantee inclusion
into the directory. Most sites however, do get accepted. There is
also a recurring annual fee of $299.00

Looksmart Submissions
LookSmart results reach Internet users worldwide through top
portals, ISPs, and search services including Lycos, InfoSpace,
RoadRunner, CNET, Inktomi and LookSmart.com

Free
For non-commercial sites, submit them to zeal.com
To do this, fill out the zeal membership form
Choose a non-commercial category by selecting the "Manage"
option near the top of the category page, then click on the
"Profile" link near the top of the page where the sites are listed.

Paid
http://listings.looksmart.com/home/pricing.jhtml#cpc
Looksmart uses a pay per click (PPC) program for paid listings.
Your account will be charged a minimum of $15 each month.

Open Directory (ODP) Submissions
The Open Directory is a guide run by volunteers. If you get
placed here, your site will also appear in many of the major
search engines ie Google.

Free
Find the category you want your site to be listed in.
To submit, locate the category you want your site to be listed
in. Then go to the "suggest URL" link that appears at the top of
the category page. Fill out and submit the form. That's all there is
to it!

Guarantee - If you are accepted, your site should appear within
three weeks, if it gets accepted. If not, then resubmit.

To increase the amount of traffic you can receive, and to learn
more about submitting to ODP visit: http://dmoz.org/add.html

JoeAnt Submissions
Browse through the topics and choose the one that best suits your
site. Click the "Suggest a Site" button at the bottom of the
page to be guided through the simple submission process.

Free
If you join the editorial team, you can place your site for free.

Paid
For US$39.99 you get a guaranteed review within 2 business days.
Here are the webmaster guidelines

GoGuides Submissions
This is another self submit directory maintained by volunteer
editors.

Paid
Get an express review for $39.99 and your site will be reviewed in 2
business days. Choose from the list of major topics in the GoGuides
directory. Click on the appropriate topic for your site, then find the
most specific subtopic available for your site. When you have found
the subtopic where your site should be located, click 'Add Your URL'
which is at the top of the page, then fill out the submission form.

Other Resources
Here's a great list of General, Local, Regional and Specialty Directories

Conclusion
Before submitting your site to the Major Search Engines and Directories,
first decide how much you want to spend on paid submissions. Stick to a
certain budget. If you don't have the cash..yet, but have time, then work
on getting links from other web sites. Ideally you should implement both
marketing strategies to increase the number of visitors and therefore gain
potential buyers.
Subscribe FREE to
Marketing Tips Newsletter
---
NEW Ebook
101 Highly Effective Strategies to Promote Your Web Site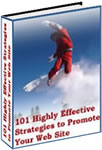 ---
---